Men's Hair Replacement at Keith's
TOTALLY NATURAL, NON-SURGICAL HAIR LOSS SOLUTIONS FOR MEN
Get Your
Hair Back!
A New Era in Men's Hair Loss Solutions
Non-surgical hair replacement for men. Keith's Haircenter in Green Bay and Appleton, Wisconsin has been a leader in men's hair replacement and non-surgical hair restoration for over 30 years, offering individually customized hair loss solutions for men of all ages.
At Keith's Haircenter, we provide the latest in today's men's hair replacement technology and hair loss solutions.
Our individually customized men's hair replacement solutions are made from 100% real human hair, giving you the ability to once again have the hair you deserve in the length, fulness, and style you want.
Men's Hair Replacement

Green Bay & Appleton

Custom Men's Hair Loss Solutions from Keith's Haircenter are created from the finest human hair available and are virtually undetectable to both sight and touch. Our non-surgical hair replacement for men, looks, feels, and acts like your own hair! That means you can enjoy the everyday activities you have been missing. Go swimming, work out at the gym, enjoy social occasions again without constantly worrying about your hair.

Utilizing the latest in non-surgical hair replacement technology, we precisely recreate the length, appearance, coverage, and style you want while perfectly integrating your new hair with your own for a perfect, natural and seamless look – even to the most probing eye. Whether you want to recreate your favorite look or try something new and cutting edge, your custom men's hair replacement is ready.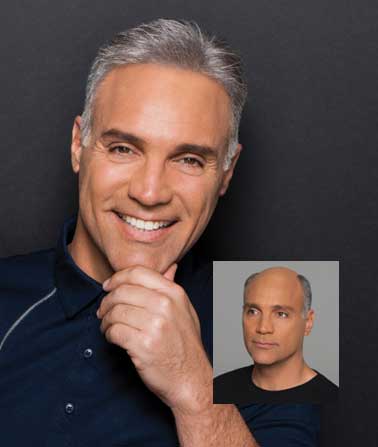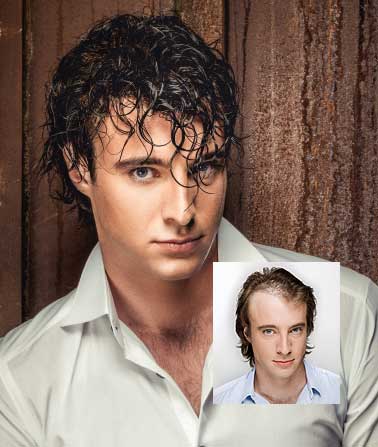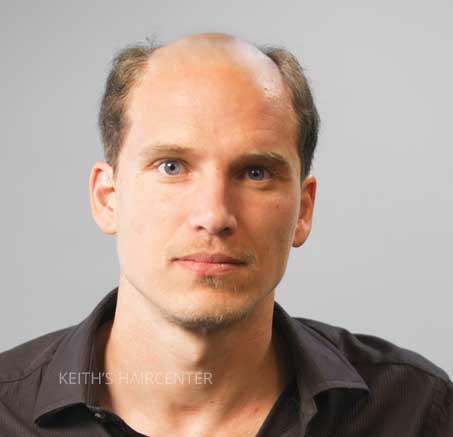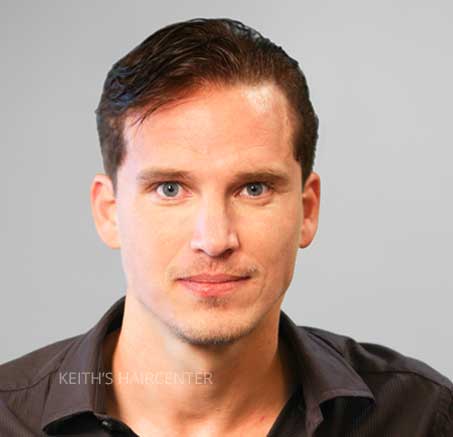 TOTALLY NATURAL. COMPLETELY UNDETECTABLE.
Individually Customized Men's Hair Replacement
Active men need a hair loss solution that looks and feels totally natural and is compatible with their lifestyle. Keith's individually customized hair systems are tailored to your specific needs. Mimicking the texture, color and style of your own hair, it seamlessly gives you the natural, healthy look you deserve.
With Keith's custom men's hair restoration, you can restore your hair and recharge your confidence, all with results that are virtually impossible to distinguish from your own natural growing hair, even up close.
Results That
Speak for Themselves
With respect to non-surgical hair replacement, our custom men's hair replacement systems offer men of all ages and hair types a full head of healthy-looking hair in whatever style, length, and volume you want or need.
At Keith's Haircenter in Green Bay and Appleton, Wisconsin, we are passionate about providing each of our clients the very best in men's hair loss solutions, including our state-of-the-art custom men's hair systems. If you or someone you know is suffering from hair loss or thinning hair, we encourage you to schedule a free, private consultation with the specialists at Keith's Haircenter to learn if non-surgical hair replacement is right for you.
A specialist will work one-on-one with you to answer all your questions completely and fully and help you find the perfect hair loss solution for your needs. Contact us today to schedule your private, complimentary consultation and take control of your thinning hair.

WHAT OUR CLIENTS SAY

"The people at Keith's cared personally about my hair, and how to reach solutions for my concerns towards it. I received a haircut from Jessica off of a reference image I showed, and she did a fantastic job, putting as much detail into the recreation as possible. I was also greatly informed by Keith on the concerns and questions I entered with, and I'm very thankful for the team's passion for genuinely helping those reach their goals for their hair."  – Drake (Google)
GET STARTED WITH A
FREE CONSULTATION
Whether you are experiencing thinning hair and want to stop your hair loss, or want more hair, we provide the most advanced and effective hair loss treatment and hair restoration procedures for men and women of all ages and hair types.
Trust. Care. Confidence.
All of our services are provided with your complete privacy in mind. We provide a private, confidential, respectful atmosphere which all our clients appreciate. Regardless of the cause of your hair loss, Keith's is here to help.
Get Answers Today
RESTORE YOUR HAIR. RESTORE YOUR LIFE. Schedule a free, private consultation today.