Women's Wigs, Toppers & Hair Addons
Largest Selection of Wigs & Toppers for Thinning Hair, Alopecia & Chemotherapy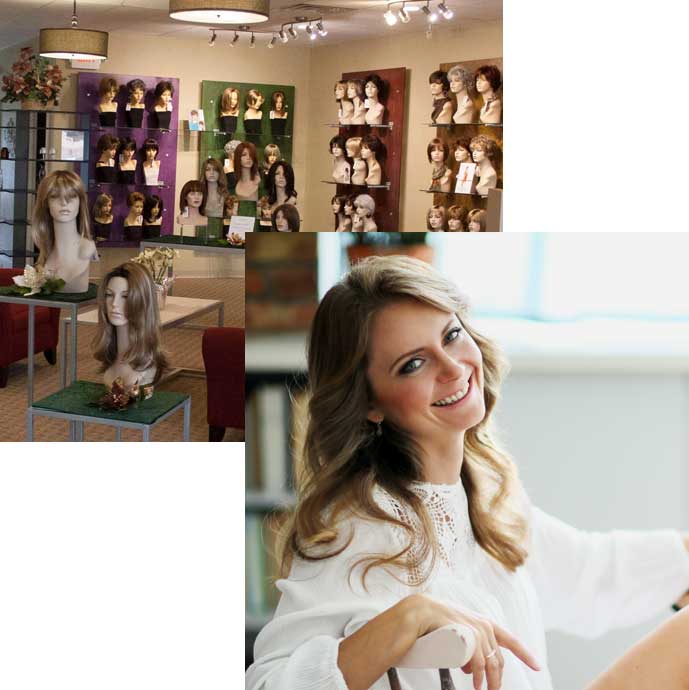 Custom Wigs
& Hair Additions
Whatever the reason for your hair loss, we're here to help!
If you are experiencing hair loss due to alopecia or other medical causes, our custom and ready-made wigs are the perfect solution. Alopecia is a common condition, but although not often spoken about, it affects the lives of hundreds of thousands of women each year.
We take pride in providing a personal caring service to all our clients at our Green Bay & Appleton studios, guiding you through the process every step of the way. Whether you are looking for a wig made from virgin European hair, synthetic hair, or a blend of both, we are here to help you find the perfect solution for your needs. We also offer styling services to ensure your wig or hair addition perfectly suits your established look.
Choosing Your
New Wig
Every woman wants to look and feel beautiful. That is why we are so excited to offer our full line of alopecia and medical quality wigs designed especially for women with little or no hair. There is no question that wigs today are much more advanced than they were just a few years ago. They are very different from the wigs you may remember your grandmother wearing. Our beautiful human hair wigs for both men and women are of the highest quality and have an incredible natural look and feel.
We specialize in custom sizing, styling and cutting to give our clients the most natural look and comfortable feel imaginable. If you cannot find a wig that matches your previous hairstyle or desired look, we can create it for you!
There are so many reasons why men, women, and children with thinning hair come to our Voga Wigs studios in Green Bay and Appleton, Wisconsin. Our wigs are made of the finest natural 100% human hair. Because the hair is natural and real, it feels and moves just like your own hair. It also gives you the ability to be able to style and color your hair in any way you like, whenever you want.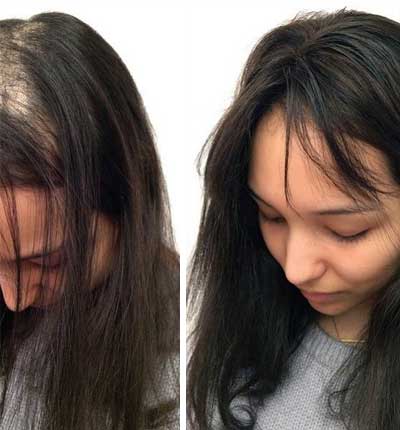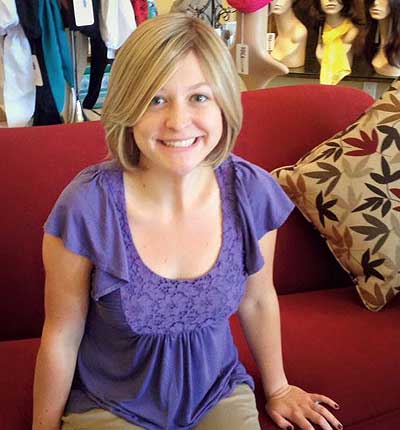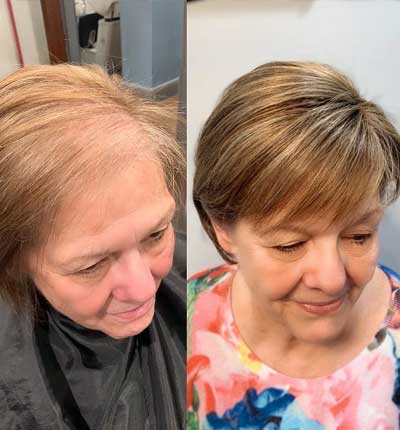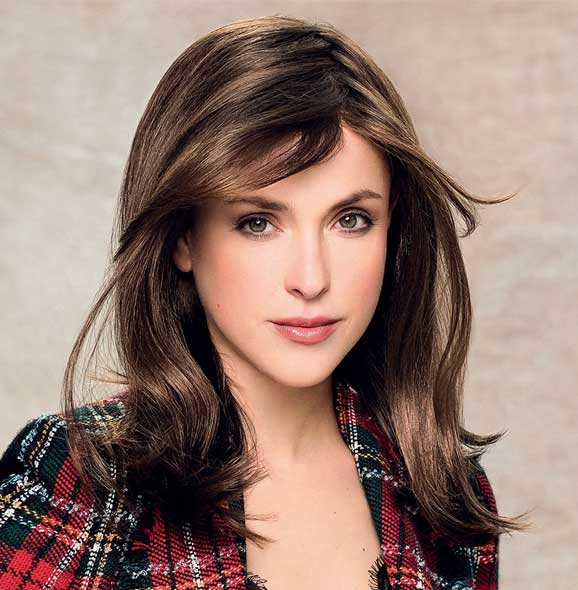 Human Hair

vs. Synthetic Wigs

Human Hair Wigs:
A common myth that we've heard over and over again is that human hair wigs are difficult to maintain. In fact, because you can use curling irons, straighteners, and hot blowers and dryers, you have virtually limitless options for styling, making human hair wigs a perfect choice when you want to change up your look.

Synthetic Hair Wigs:
Our synthetic hair wigs are of a significantly higher quality than those you would see elsewhere, such as in catalogs, online or in department stores. Our synthetic and synthetic blend wigs 'medical quality,' meaning they are designed specifically for those with a sensitive scalp due to having little or no hair, leaving others to provide what is widely called 'fashion wigs.'
Results That
Speak for Themselves
Your individually customized wig or topper is created to your exact specifications and meticulously matched and blended to your own natural growing hair in terms of color, curl, texture and density. Our beautiful women's wigs and hair additions are the perfect solution for women of all ages and hair types who want to fall in love with their hair again, providing just the right amount of fulness and density with the style and aesthetic they need and want.

GET STARTED WITH A
FREE CONSULTATION
To learn more about today's leading hair loss and hair replacement solutions, we invite you contact us today to schedule a free, private no-obligation consultation to learn about all of our hair replacement services in a comfortable, confidential, no-pressure environment.
Trust. Care. Confidence.
All of our services are provided with your complete privacy in mind. Regardless of the cause of your hair loss, Keith's is here to help.
Get Answers Today
RESTORE YOUR HAIR. RESTORE YOUR LIFE. Schedule a free, private consultation today.